Course Hours
Pro-Shop Hours:
7:00am – dark (April – September)
7:30am – dark (October – March)
Driving Range Hours:
Range closes 1 hour prior to dark – please call for exact times
Range is closed on Tuesday morning for maintenance
---
Course Rules
All players must register prior to play
All players must start on #1 tee unless permission is granted by pro-shop or starter
Each player must have their own set of clubs – rental sets available
Dress Code enforced: Men – no tank tops, sleeveless shirts, or cut-offs. Women – no halter tops, tube tops, or short-shorts
No metal spikes allowed
Rainchecks to be issued for emergency or inclement weather only
Golf Cart Rules
Must be 16 years old to operate a golf cart – NO EXCEPTIONS!!
Keep carts at least 30 feet from all greens
Keep carts on paths around tee-boxes
Please utilize the correct number of carts for your group (ie – 4 players = 2 carts and 2 players = 1 cart)
Please obey all golf cart traffic markers (signs, ropes, and painted lines)
Riders must pay a riders' fee when an extra cart is used
Golf Course Etiquette
Ready golf is to be observed and is appreciated
Groups are expected to play 18 holes in at least a 4:20 pace at Country Oaks – slower groups will first be asked to pick up the pace and then asked to skip to the next hole in order to keep pace
Please repair all ball marks, replace divots, and rake the sand traps
No horseplay or vandalism will be tolerated
Excessive slow play or improper etiquette may result in a player's removal from the course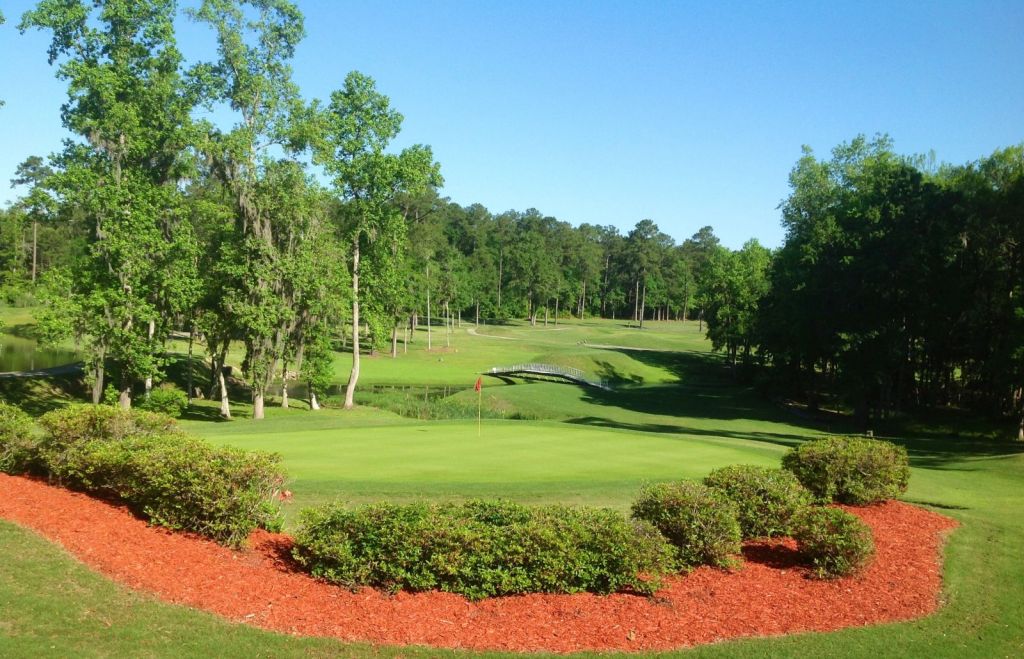 Country Oaks…just the name itself suggests a tranquil, wooded setting that will no doubt provide a challenging course for all golf enthusiasts. Situated among 160 acres of wild azaleas, dogwoods, oaks, and magnolias, Country Oaks has 18 holes with a par of 72. Country Oaks is located just 4 miles from historic Thomasville, Georgia on Highway 122 (Pavo Road). The course is owned and operated by the City of Thomasville for the pleasure of residents and visitors. The warm, southern climate allows the course to be open year round.
The course began as a 9 hole facility built by the City of Thomasville in 1979 for the pleasure of its citizens and visitors. A few years later, another 9 holes was added to complete the 18 hole layout. A new 3500 square foot clubhouse was added in 2006 to put the finishing touches on what is generally known in the immediate area as a very good value for your golf dollar.
Country Oaks can be considered short by today's standards, but don't let the yardage fool you. The course plays 6,284 yards from the back tees with a USGA rating of 71.3. While not a long golf course by any stretch, it is very narrow, so a premium is placed on accuracy off the tee-box.
Country Oaks and the City of Thomasville are committed to providing golfers with a quality golfing experience at an affordable price. Whether it is a Saturday morning round of golf with friends, a family outing with the kids, or a business golf outing, Country Oaks is the golf course for you.